Experience the Finnish Education System
Helsinki University Centre for Continuing Education HYplus is organizing again one of its well-liked Eduvisits for teachers, principals, administrators and other staff members eager to learn about the Finnish educational system. The next visit is organized at the beginning of October 2017.
Eduvisits aim to provide concrete information about the Finnish education system which is known to be one of the best in the world. On the Program for International Student Assessment (PISA) Finland is continuously amongst the highest performing countries. Eduvisits aim to share the know-how behind the success of Finnish education system.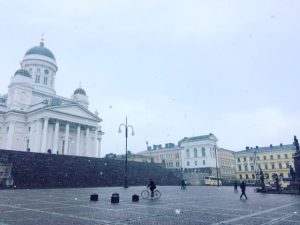 Previous Eduvisits have proved to be productive and according to feedback, the participants have been extremely content. The programme has been credited for its informative and thought provoking content, and the way how theory is combined to practice has been well received. "Oh what a week! I think these blog posts show just a fraction of what we learnt," writes an Eduvisit participant Carolina Giannetto in her blog where she shares a lot of her visit. Giannetto seems to be amazed how teachers are valued in Finland and the education system is planned to enhance learning.
Helsinki University Centre for Continuing Education HYplus cooperates closely with the University of Helsinki. This offers an opportunity to learn about the latest educational research and practices as well as Finnish teacher training from leading experts. During the Eduvisit you also learn to use Finnish innovative practices in your own context. Eduvisits are tailor maid for the participants, which means that their needs and wishes are considered before the actual visit begins.
Eduvisit participants learn how to make the quality of teaching in their own country better with small changes and get ideas to develop a school with happy and engaged students. Therefore, Eduvisit has a great value not only for the individual participant but also for the school they work in.